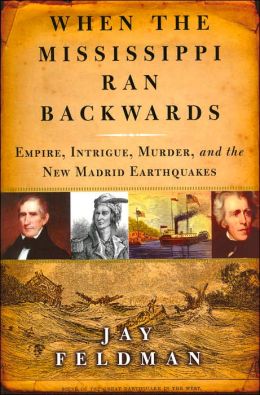 This week, I'm putting together my personal list for the Book Riot 2015 Reading Challenge. Guess What? I'm also lucky enough to teach a class in critical reading, and my students will be using this list to creative their own--we're calling it a "Reading Scavenger Hunt." It's not unlike a class I took as a high school senior, in which we designed a reading list and presented papers and projects related to it.
Here are my selections for the #ReadHarder Challenge.
A microhistory
What's a
microhistory
?
When The Mississippi Ran Backwards
When my husband mentioned this in conversation, I did not believe him. A google search revealed that the river did indeed run backwards and, in fact, here's a book about it.
A YA novel
Hollow City
The first novel in the series struck me with its originality, and the first few pages of this one are poetry. I think someday we'll look back with confusion at the genre "young adult." Just because some books can be read by young people does not mean they are only for young people. I've been saying this for years, but no matter. Beautiful writing always needs new ways to get published and promoted, so the popularity of the genre is ultimately a good thing any way you look at it.
A sci-fi novel
Forever Odd by Dean Koontz
I saw the movie and want to find out where the story goes from there. Also, I read another Koontz novel last year and liked it.
A romance novel
Outlander by Diana Gabaldon
A National Book Award, Man Booker Prize or Pulitzer Prize winner from the last decade
Goblin Secrets by William Alexander
A book that is a retelling of a classic story (fairytale, Shakespearian play, classic novel, etc.)
Death Comes to Pemberly, by P.D. James
She was one of my grandfather's favorite authors. He thought it was clever that she used the pen name "P.D." so no one would know she was a woman (this conversation took place decades ago, long before "J.K.").
An audiobook
The Willpower Instinct by Kelly McGonigal
We're listening to this one in my Life Skills class at the home school co-op.
A collection of poetry
Hmmm...I'll get back to you.
A book that someone else has recommended to you
Niceville by Carson Stroud
A book that was originally published in another language
If you need help with this challenge, here's a great little article.
Suite Francaise by Irene
Némirovsky
A graphic novel, a graphic memoir or a collection of comics of any kind (Hi, have you met Panels?)
Buffy the Vampire Slayer: Retreat
Because I've been meaning to finish this series forEVER.
A book that you would consider a guilty pleasure (Read, and then realize that good entertainment is nothing to feel guilty over)
Sanctum by Madeleine Roux
A book published before 1850
The Mysteries of Udolpho by Ann Radcliffe
A book published this year
Going to get back to you on this one, too. Might be the conclusion to the Carson Stroud trilogy or the King novel expected this summer.
A self-improvement book (can be traditionally or non-traditionally considered "self-improvement")
Healing Fiction by James Hillman
I've been toying with the idea of a PhD in adult education having something to do with the healing/creative effect of telling our stories in fictional form.
A book written by someone when they were under the age of 25
Asylum by Madeleine Roux
Ok, I'm bending the rules here. I think this book was published when the author was 27, so I'm going to guess she was writing it around 25. It's my list. I get to do that.
A book written by someone when they were over the age of 65
Revival by Stephen King
Because now I read everything this author is writing. This was not always true.
A collection of short stories (either by one person or an anthology by many people)
H.P. Lovecraft Great Tales of Horror
Because I've never read this author and people keep telling me I should.
A book published by an indie press
Echo Lake by Letitia Trent
A woman moves back to the family house to confront secrets--I'll read/watch anything with that set-up.
A book by or about someone that identifies as LGBT
Wicked, by Gregory Maguire
Because I once heard this is the most-often-not-finished book on goodreads, so by golly I'm going to finish it.
A book by a person whose gender is different from your own
Bag of Bones by Stephen King
I wonder if this is the novel when something changed? There's an interesting little essay at the back. Also, I really liked the movie--except the ending, which I found ambiguous, but those things seem popular now. I wonder if the book will end in a similar way.
A book that takes place in Asia
The Strange Library by
A book by an author from Africa
Devil's Peak by Deon Meyer
A book that is by or about someone from an indigenous culture (Native Americans, Aboriginals, etc.)
Growing Up Dead in Texas, Stephen Graham Jones
and see the original post on Book Riot introducing the challenge here:
http://bookriot.com/2014/12/15/book-r...